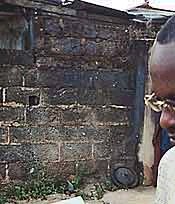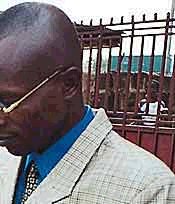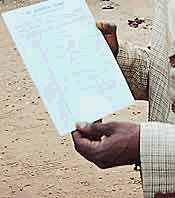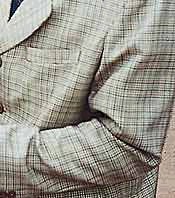 Daniel with his own death certificate

On Thursday, November 29th, 2001, pastor Daniel Ekechukwu and his wife, Nneka, had a misunderstanding that degenerated into an argument that ended in her slapping him. He was very offended by this incident, to the point of not even acknowledging her attempt to reconcile the next morning. Pastor Daniel admitted that through- out the day of November 30th, he angrily thought about how he would put his wife in her place when he returned home. He would not, however, make it home that Friday.

As he was driving home that evening, the brakes on his 20-year old Mercedes 230E failed as he was heading down a steep hill, and his car crashed into a concrete pillar that was built to prevent cars from going over a steep embankment. He was not wearing a seat belt (few Nigerians did in 2001, but that changed in 2003, when wearing a seat-belt become a national law), and his chest hit very forcibly against the steering wheel and its knob, apparently doing damage to his internal organs, as he was soon vomiting up blood and having difficulty breathing (not to mention that he soon lost all signs of life). Daniel was not able to remove himself from his car, but frantic on- lookers pulled him out. One bystander volunteered her car while another offered to drive him to St. Charles Borromeo Hospital, not far away on the outskirts of Onitsha.


Within minutes of their arrival at the hospital, a doctor began admin- istering emergency treatment, but Daniel knew his body was not responding to it. He began praying the prayer of a man who knows he is going to die, asking God to forgive him of all his sins so that he would be ready to stand before the Lord. He also sent for his wife, Nneka, with whom he had refused to speak when he left his home earlier that day. She fainted upon hearing the news of her husband's accident and condition, but when revived was taken by a Christian neighbor to the hospital. Daniel's friend, Ede Samuel (whom I interviewed at length) was with her and essentially witnessed everything that transpired over the next three days.

When she arrived at St. Charles hospital, Daniel's wife burst into tears, begging her husband not to die and leave her. The doctor admitted that there was nothing he could do to save Daniel's life (keep in mind this was a Third World hospital), and so Daniel requested that he be transferred by ambulance to Umezuruike Hospital, 80 km away. It was on the way to Umezuruike that Daniel died.

Daniel was lying in the back of the ambulance while his wife was in the front passenger seat. He began to feel that he was not going to survive, so he called for his wife to come to him. He began to say goodbye, give her instructions about certain church and personal documents, and admonished her to take care of their sons and his church. She began sobbing greatly and amidst her tears strongly rebuked him for such negative statements. He was a man of God and should have faith, and not be speaking of dying!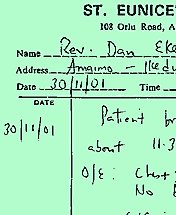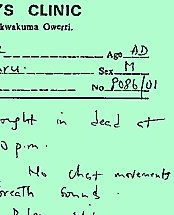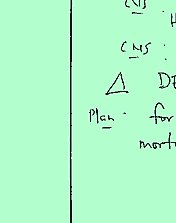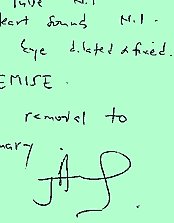 Death certificate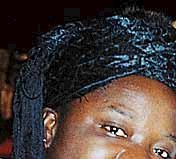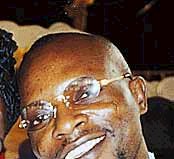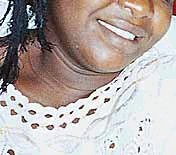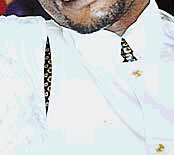 Nneka and Daniel Ekechukwu
As she was speaking, Daniel saw two large angels (they were so large that he later wondered how they fit inside the ambulance - one was as big as the ambulance) who were completely white (even the pupils of their eyes). Daniel tried to speak to the angels, but one held his finger to his lips, motioning for his silence. The angels lifted him on either side, and Daniel realized that there were now two of himself. The angels were holding him under each arm of his spirit man (which was perfectly whole), while his broken body was lying below. Once they left the ambulance, Daniel became oblivious to the natural world.

When the ambulance arrived at Umezuruike Hospital with Daniel's body, it was now late at night (Friday, November 30th), and Daniel's doctor was not there. A member of the medical staff, however, examined his body and sadly told Nneka that her husband was dead and there was nothing that could be done. Nneka refused to believe the bad report.

So they drove to the Federal Medical Center in Owerri, but found no doctor there either. Finally they drove to the Eunice Clinic, and there Daniel was confirmed to be dead by Doctor Jossy Anuebunwa. There was no breathing, no heartbeat or pulse, and Daniel's pupils were dilated and fixed. The doctor said that there was nothing he could do. A death certificate was issued at 11:30 P.M., Nov 30, 2001.

They then drove Daniel's corpse to his father's house in a nearby village, and naturally Daniel's father and other family members were heartbroken at the sight of Daniel's dead body, weeping profusely. Daniel's father instructed them to take his body to Ikeduru General Hospital Mortuary not far away. They arrived there around 1:00 am on Saturday morning. The resident mortician, Mr. Darlington Manu, received the corpse and the family members departed.


Continiue Click Here